Tues' 11th Dec – Honiton £500 to Devon in Sight.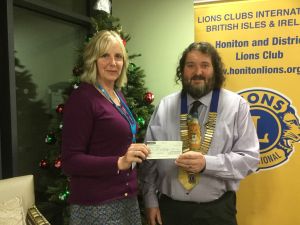 Mon' Nov 5th - Ottery St Mary Eat for charity at Tar barrels, £1000 plus raised.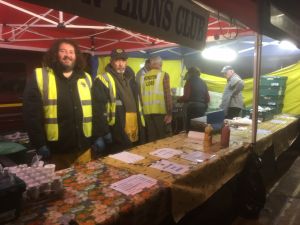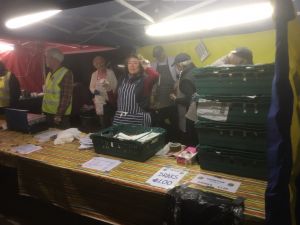 Sat' 20th Oct - Honiton, Mackarness Hall Book & Plants, over £400 raised.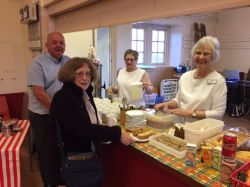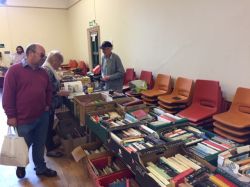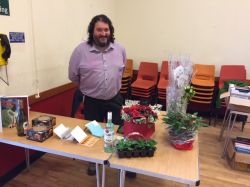 Sat' 13th Oct – Honiton Lions and Tesco make up lights collection with £155.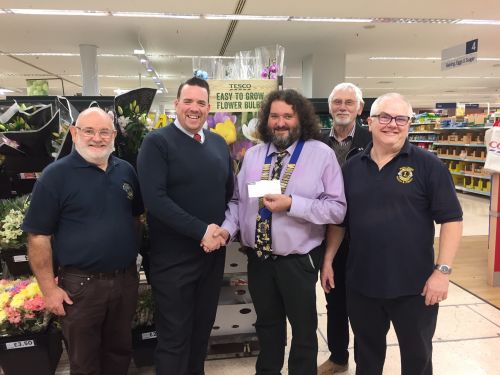 Thurs' 18th Oct - Honiton, Lions Ladies Pamper Evening Kings House Day Centre Honiton, £700+ raised.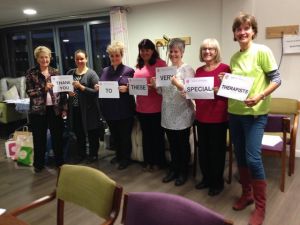 Wed' 3rd Oct - Honiton, £600 (£300 each) presented to Local Karate Club by Lions and Lions Ladies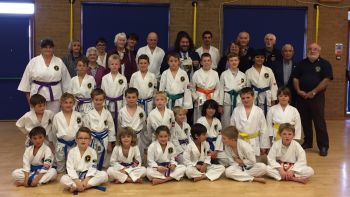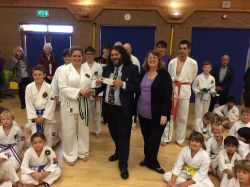 Sat' 8th Sept - Honiton, Budleigh Salterton choir at St Paul Church.

Thurs' 16th Aug - Weston, 2018 Duck Race gets away at Otter Inn, No weather problems this time
Fri' 10th Aug - Ottery St Mary Library, £150 towards Lego Club start for purchase of Lego bricks.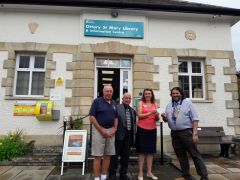 Sat' 4th Aug - Honiton, £1670 presented to Cancer research following MOLE DAY
| | | |
| --- | --- | --- |
| | | |
| Lion Welfare Chairman John with Briony Gotch Cancer Research Shop Manager and Lion President Jamie | | Lions Brian, Barry with Briony Gotch, Dr Tony Downs, Lion Present Jamie (Lion Dave back row) Lion Welfare Chairman John and his wife Sheila |
Thurs' 2nd Aug - Honiton Show, Club opportunity to met community and encourage duck race ticket sales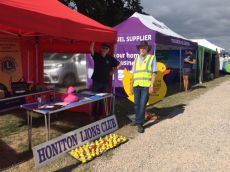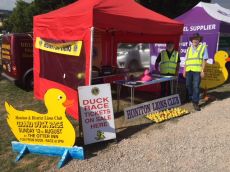 Sat' 28th July - Honiton, Hospiscare - Bacon butties, a nice cuppa, slices of cake, jams and flowers - helped to raise close to £300


Sat 21st July - Honiton, 9th Classic car event, record for Club.
Say 7th July - Honiton, 2nd Mole day, Astonishing result, 167 people were checked. 7 people referred = £1700 raised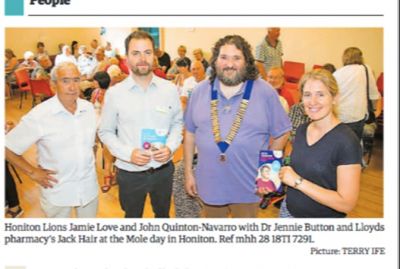 From and thanks to the New Honiton Newspaper
Sat' 30 June - Upottery. Presidents Handover 2017-18, Lion President Jamie takes over.
Tues' 26th June, Honiton - £500 presented to "See The Future"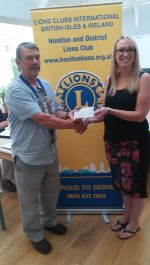 Tues' 22nd May, Otter Inn at Weston - Lions and sponsors gather to launch 2018 Duck Race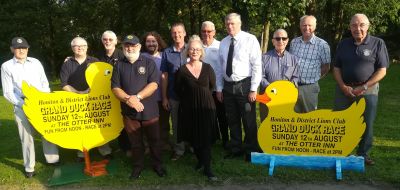 Sun 20th May, Tumbling Weir Hotel - Ottery St Mary - Honiton & District Lions Club 2018, 41st Charter meal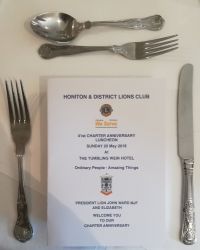 Wed 16th May, Ottery St Mary - Coleridge Medical Centre, New Digital ECG machine delivered.


Tues' 17th April - Upottery, Club "Educational Visit" to Otter brewery..................Honest!!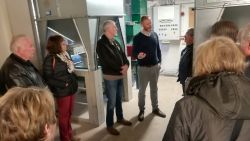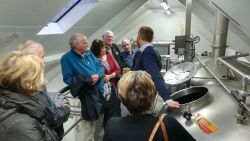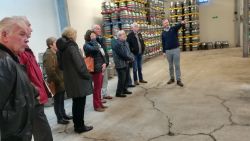 Thurs' 12th April - Weston. £250 to Deer Park Hotels selected charity, for assisting the Club throughout the year
Tues' 3rd April - Plymtree. Lions Easter Egg raffled for £100 at Schools Easter Bingo fundraising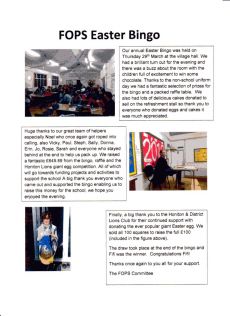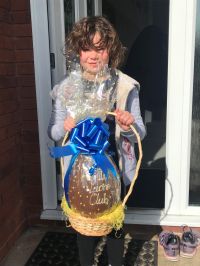 Sat 31st March - Honiton. Lion Bill during Easter collection at Tesco Honiton.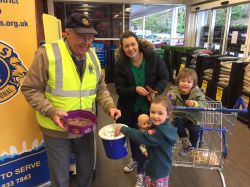 Sat' 24th March, Upottery. £250 for Upottery FC to assist with ground improvements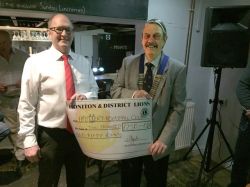 Fri' 16th Feb - Honiton. £500 to Admiral Nurses working with Tesco Honiton, community partnership at it's best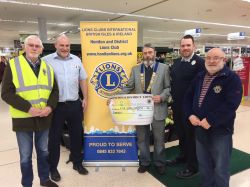 11th Jan' 2018 - Honiton. Ruth Bizley receives £160 to assist her work with hearing loss and lip reading classes.