Photo Gallery 2015
View "Year in Close Up" filmstrip and enlarged photo's of events below
Dec - Honiton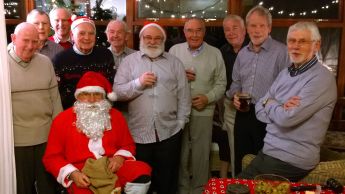 Merry Christmas & Happy New Year from the Honiton and District Lions Club to all
Sat' 19th Dec - Tesco Honiton, Christmas Collection - Thanks to the Honiton community.

Wed' Dec' 16th - Honiton College, Senior citizens' Christmas party, 88 very happy people. Lion's were wine waiters

Thurs' Dec 3rd - Honiton, Lions present Matt Burrell (Honiton College) with £100 for senior citizens Christmas Party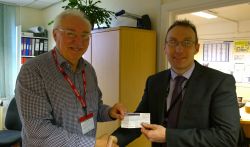 Mon' Nov 30th - Honiton / Exeter £500 towards Movember "excess hair month" and men's health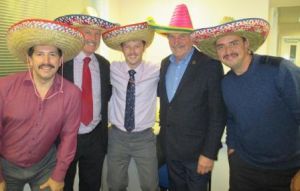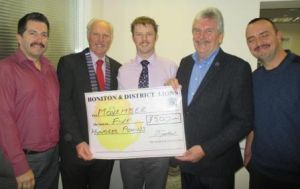 Tues' Nov 24th - Honiton, Lions Ladies present £1000 to Hospiscare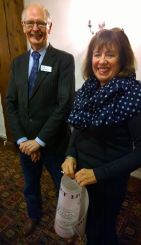 Oct / Nov - Honiton, Collecting for Tesco Charity and the Community

Wed' Nov 11th - Honiton, Chamber of Commerce, Thanks to Business's with £250 towards Towns Christmas Lights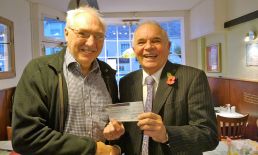 Thurs' Nov 5th - Ottery St Mary, Tar Barrels Lions BBQ stand - Eat For Charity - £1000 raised for Community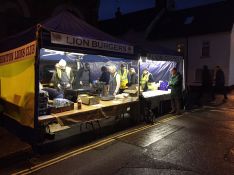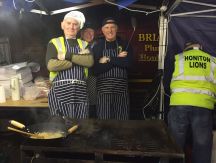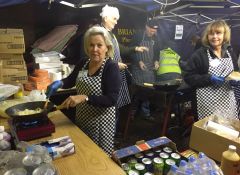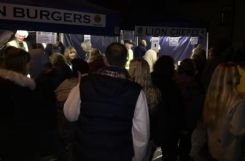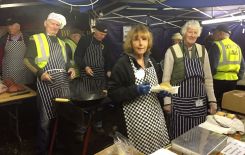 Sun' 18th Oct - Honiton, Honiton Community Theatre Company, £250 towards microphone system


Wed' 7th Oct - Honiton, Lions Ladies pamper evening raises £450 for Force and Hospiscare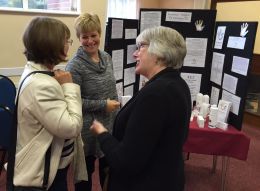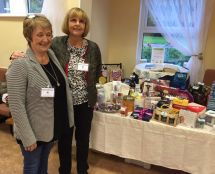 Sat' 26th Sept - Honiton, Lions Ladies at Hospiscare, Honiton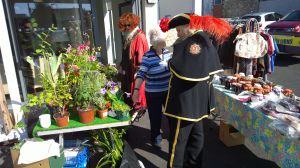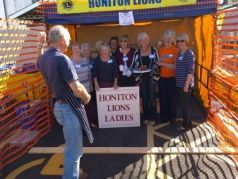 Sun' 6th Sept - Honiton, Presidents Bruce's and Shelia's BBQ Party "OZ" style - Look here, Close up Bruce's & Shelia's


Fri' 4th Sept - Honiton, £250 to Morgen Davy for Teenage Cancer Trust.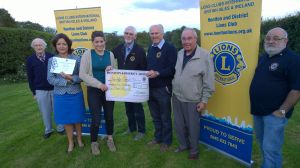 Sun' 9th Aug - DUCK race Otter Inn Weston.
Sat' 25th July - Honiton Town Charter / Classic car fun day.
Mon' June 29th - Presidents Handover 2015/16 - Deer Park Hotel with wife's and guests.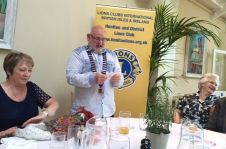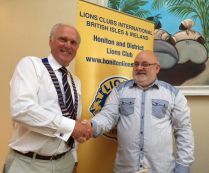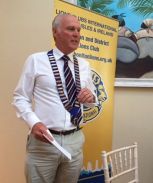 Fri' June 26th - Presentation of £100 to Honiton (Stingrays) swimming club.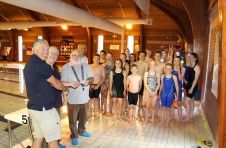 Fri' June 12th - Whimple, £500 towards £4K Careflex chair for Lady with MS, this is more than a chair.

Sat' May 30th - Honiton, raising money for Honiton Hospital - The League of Friends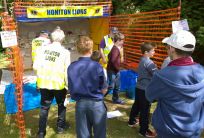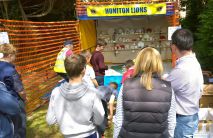 Fri' 29th May - Honiton, 38th Honiton Lions Charter Evening - Tumbling Weir Hotel

Lions drinking, meeting, dinning and the entertainment (speeches!!)
Sat' May 23rd - Honiton, £100 for Honiton Gymnastics Club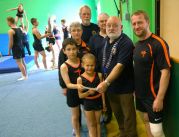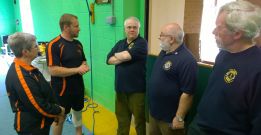 Mon' 4th May - Honiton, Upright arm chair delivered to 89 year old gentleman, what the Dr ordered.


Sat' 2nd May - Honiton, Devon Freewheelers Sausage and Cider, crockery smashing, sweets & books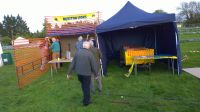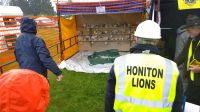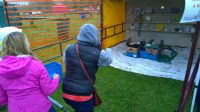 Sat' 2nd May - Honiton, Presentation of £2100+ Mobile De-Fib to Devon Freewheelers and at Freewheelers HQ on 11th May as DeFib hits the road.
| | | |
| --- | --- | --- |
| | | |
| Lion President Brian presenting the Defibrillator to Dan Lavery in the company of Neil Parish | Lion President Brian & Dan with DeFib | Lions with Devon Freewheelers as DeFib hits the road |
Sat' April 4th / Sat 23rd May - Honiton, Tesco Honiton collection, Tesco's Charity & Club Projects

Sun' 29 March - Otter Nurseries Wheelbarrow raffle raises £150, winner from Exeter with ticket Nr 31

Friday 20th March - Honiton wide, 26 Lions 1Kg Easter Eggs raffled, raises £2K for many charities.

Winner of the 1Kg egg at Plymtree School
Wed' 11th March - Ottery St Mary, Speech software on iPad to local Primary School student.

Tues' 10th Feb - Honiton - Dropside Cot & Stair gates to keep family baby safe


Fri' 6th March - Tampere Finland, Honiton Lions at 107E Finnish Dinner Event with 110 guests


Tues' 10th Feb - Wimple, East Devon Explorer Scouts, £100 Ten Tors Funding

Mon' Jan 26th - Honiton, Table tennis & Table football Equipment for youth clubs.


Wed' Jan 21st - Honiton, £125 of Funding for printing onto Hi-Vis Jackets for Scouts.