Honiton Lions 5th Mole Screening Day 9am-1pm
Saturday 21st of May 2022, Held at The Mackarness Hall, Honiton.
5 minutes that could be a life saver.
Cost to each patient £5, Lions will match this donation and all proceeds will be split equally and donated to Cancer Research UK and Hospiscare
During the first "Mole screening day" held in Honiton Oct 2016, 119 people were checked in 3 1/2 hours and 5 cancers detected, followed up and treated, that is about the UK average of 1 in 20. AND WHY...........READ ON..........
One of the Clubs members attended such a charity event in Exeter after being "persuaded" that he should attend by his wife. This turned out to be the five minutes that could have saved his life.

.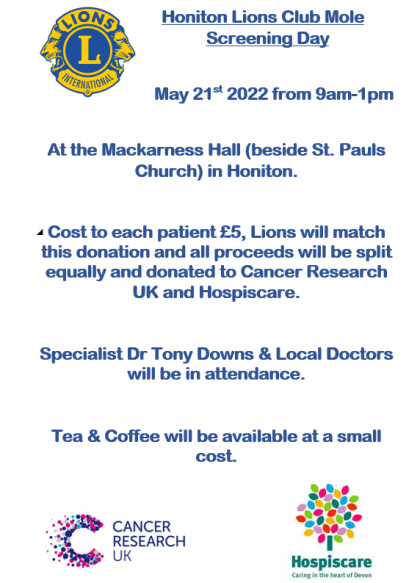 Of all cancers Skin Cancer ranks 5th in the UK