About us in, and the Market town of Honiton - Devon
The Lions is the largest voluntary organisation in the world. Every penny we collect is spent on community projects. Honiton and District Lions Club received their charter in 1977 and at present we have 11 members who come from all walks of life and backgrounds, united in one common aim - to help those less fortunate than themselves.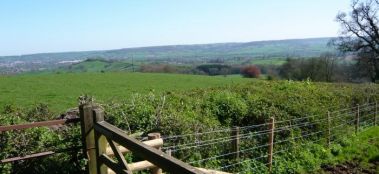 With Honiton to the left looking over the Otter valley
Raising funds across the area from, the Classic car show, 1kg Easter Egg raffles, Duck race in Honiton, Mole screening day, to the BBQ at Tar Barrels and Carnival in Ottery St Mary and many other smaller local events.
History of Honiton Market

There has been a market recorded in Honiton since before the reign of King John (1199-1216) however the Royal Charter, granting the rights for a weekly market, were bestowed to the town in 1257, by Henry III.

In addition to the Tuesday and Thursday, Saturday's market was originally held on a Sunday and only later changed to as we know it today.

For centuries Honiton market was primarily for the sale of livestock and farm produce at its height being one of the busiest and most well known markets in Christendom! So famous in fact that it has even been mentioned in popular literature for Horace Smith's character 'Lady Crockatt' was so refined she would buy "no fish except out of Honiton market"!
Presidents HANDOVER 2018/19 at The Sidmouth Arms is located in the picturesque village of Upottery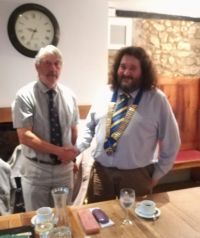 Outgoing Lions President Lion John, incoming Lions President Lion Jamie,
Our administrative costs are covered by club subscription. Funds / items for charity are always
kept separate and distributed directly to the area / project / charity or person.