Serving the Local Community
HONITON LIONS NEWS
---


You can now follow us on Twitter and Facebook "top right"
---
See Honiton & District Facebook
---
Forthcoming event
Sat' 7th July 0930 (9.30 am) to 1300 (1.00 pm)
2nd Honiton Mole Scanning day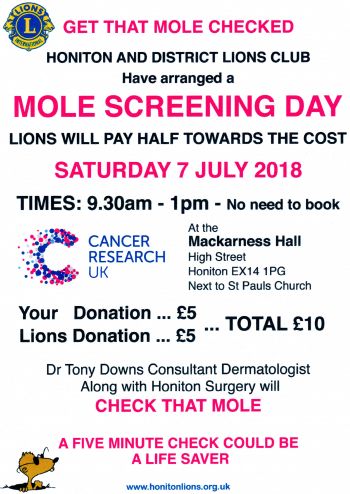 Following the last event and several requests from the community, the Club has arranged another Mole Scanning Day, all in aid of Cancer Research. At the last event 119 attended and 5 were immediately recommended for "mole" removal. Again, leading London and SW Consultant Dermatologist Dr Tony Downs will be in attendance.
---

Fri' 16th Feb - Honiton
£500 to Honiton Admiral Nurses via Tesco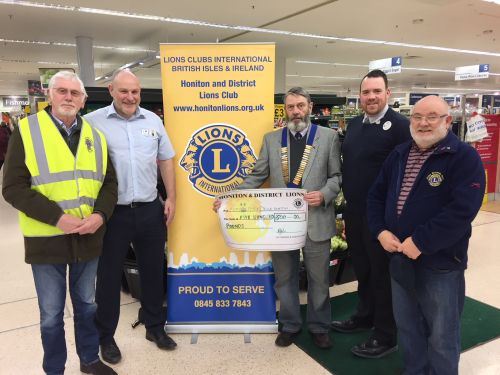 This is working in the community, Tesco Honiton and The Lions. Having co-operated throughout 2017, it lead to £500 being presented by Lions president John and forwarded on to Admiral Nurses via the Tesco Honiton store.
---
Tues' 23rd Jan - Honiton
1Kg Easter Eggs at the ready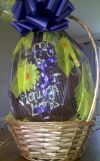 Club gearing up for the distribution of 20 x 1Kg Easter Eggs to schools and businesses. This year we are aiming to raise £2000 which will be used to assist projects and schools in the local community
---
Tues' 23rd Jan - Honiton
Assisting local medical student of Humanitarian medicine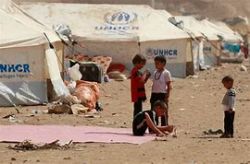 Following a funding request to the Club, Jessica Dole formerly studied at Honiton Community College, and now studying Humanitarian medicine, soon joining a multi-disciplinary team, will be off to Italy with the Club financing part of her trip. On her return Jessica will speak about her experiences to the members.

---
Mon 11th Jan' - Honiton
£160 for Lip reading classes
Lions John, Brian & Barry present Ruth Bizley with £160 towards her hearing loss

and lip reading assistance classes following her funding request to the Club back in Nov' leading to the continuation of her services and classes in Honiton
---
If you are new to Lionism, through these pages you will be able to find out about the work of the international organisation of Lions and our Lions Club in particular. If you are a Lion, and planning to visit our area, we hope that the information on our website will encourage you to visit us.
| | | |
| --- | --- | --- |
| | | |
| 40 years supporting the community in 2017 | | Honiton Town High Street |
Honiton & District Lions Club - Devon, formed in 1977
Retired or just moved into area - Want to make new friends?
Have you some time to spare?
Interested in Joining the Honiton and District Lions Club -
And help us with some of our other projects, fundraising or maybe join us for a social evening hopefully you will enjoy the activity!

Lion President Brian (right) hands over to New Lion President John (left) for 2017/18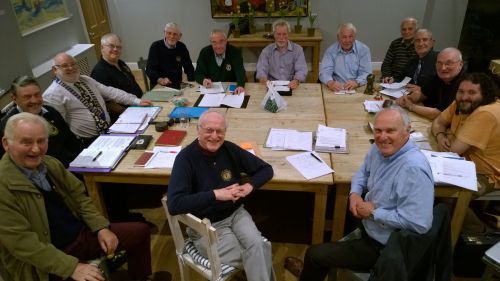 Evening meeting for the Honiton & District Lions Club members.
Some Numbers about Lions..............