Serving the Local Community
HONITON LIONS NEWS
---


You can now follow us on Twitter and Facebook "top right"
---
See Honiton & District Facebook
---
Mon 11th Jan' - Honiton
£160 for Lip reading classes
Lions John, Brian & Barry present Ruth Bizley with £160 towards her hearing loss

and lip reading assistance classes following her funding request to the Club back in Nov' leading to the continuation of her services and classes in Honiton
---
Mon' 1st Jan 2018 - Honiton
Happy New Year Folks

---
Tues' 12th Dec - Honiton
£250 grant to HALFF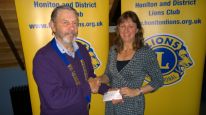 Lion President John and Club members agree to award grant of £250 to Laura O'Rourke from – Health & Local Food for Families – towards the purchase of portable kitchen equipment, allowing HALFF to get out to distant communities to demonstrate the need for good easy home cooking and use of the correct foods.
---

Sat' 9th Dec - Honiton
Christmas collection with talking deer and Santa

Thanks to Tesco Honiton and to all who stopped to comment about the Honiton Lions work in the local community at the Clubs Christmas collection. This was reflected in the donations made to the Club, to which the Club and members are very thankful, setting up the Club for another successful year. Santa's big bucket of sweets were popular!! and the talking deer had some very interesting conversation
---
Thurs' 7th Dec - Honiton
Senior Citizen's Xmas Party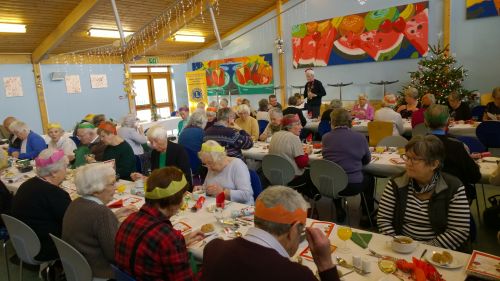 Wonderful Senior Citizens Christmas party
Honiton Community College 7th December. Well done the College & kitchen staff, especially the 6th form pupils - thanks to local businesses that pitched in. Great day - good fun!
---
Sat Dec 2nd - Honiton Lions Ladies Xmas stall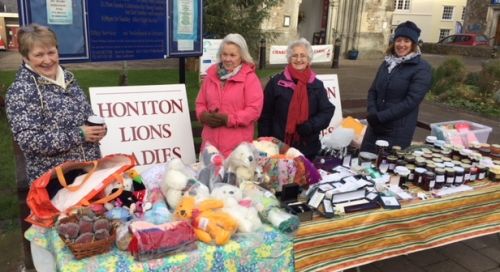 The Lions Ladies were on the streets again selling their Christmas goodies, on a cold grey day.
If you are new to Lionism, through these pages you will be able to find out about the work of the international organisation of Lions and our Lions Club in particular. If you are a Lion, and planning to visit our area, we hope that the information on our website will encourage you to visit us.
| | | |
| --- | --- | --- |
| | | |
| 40 years supporting the community in 2017 | | Honiton Town High Street |
Honiton & District Lions Club - Devon, formed in 1977
Retired or just moved into area - Want to make new friends?
Have you some time to spare?
Interested in Joining the Honiton and District Lions Club -
And help us with some of our other projects, fundraising or maybe join us for a social evening hopefully you will enjoy the activity!

Lion President Brian (right) hands over to New Lion President John (left) for 2017/18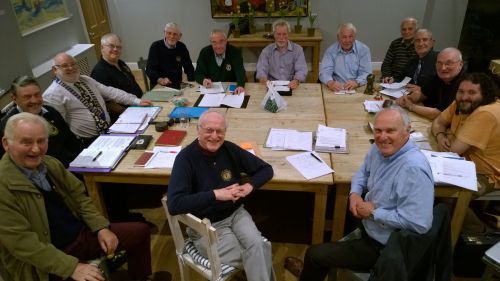 Evening meeting for the Honiton & District Lions Club members.
Some Numbers about Lions..............