Serving the Local Community
HONITON LIONS NEWS
---


You can now follow us on Twitter and Facebook "top right"
---
100 years of Lions
And 40 Years in Honiton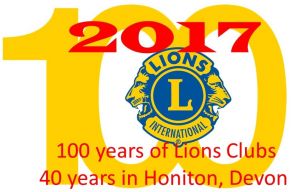 We made it, 100 years world wide and 40 serving Honiton Town Community
---
Sat' Dec 17th - Honiton
Final collection 2016 Tesco Honiton

Thank you to everyone who contributed at our final collection of 2016, and all the people who stopped to talk about the work we have done in the community.
---
Wed 14th Dec - Honiton College
Senior citizens' Christmas party
The Staff and pupils, assisted by the Lions wine waiters (and Father Christmas) (Hic) delivered another specular Christmas treat t

o around 85 guests, with The Kitchen staff delivered an excellent 3 course meal.
---
Fri' 2nd Dec - Honiton
£1200 from Mole Day presented to Cancer Research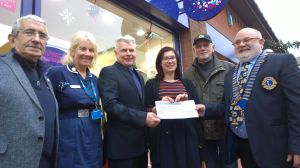 Following the Lions "Mole Day" for Cancer Research when Consultant Dermatologist Dr Tony Downs gave his time for charity, checking 119 people in 3 1/2 hours. It was time to present the £1200 raised to CRUK.
---
Fri' 2nd Dec - Honiton
£300 towards new Penlee lifeboat station

Lion Dave Rickard, the Clubs Cornishman, has been selling books and raising money for the New Penlee lifeboat station. So following his efforts in Honiton, Dave and the Club presented £300 to RNLI.
---
Wed' 23rd Nov - Honiton
Lions Ladies £750 to Hospiscare & Force

Mary Bolshaw from Hospiscare and David Cantle from ForceCancer each receive £750 follow the successfu

l fundraising at the Lions Ladies Pamper evening.
---
Sat' 19th Nov - Honiton Town
Town Lights switch on with Father Christmas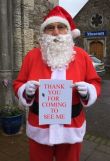 Not the best weather evening, but thank you to Honiton Community for all the support shown.
Thank you to all the children for joining me there, have a very Merry Christmas.
If you are new to Lionism, through these pages you will be able to find out about the work of the international organisation of Lions and our Lions Club in particular. If you are a Lion, and planning to visit our area, we hope that the information on our website will encourage you to visit us.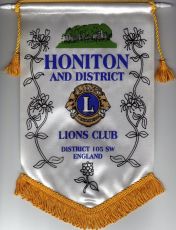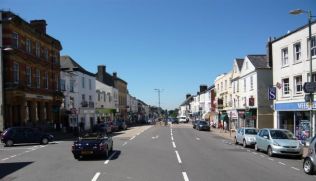 40 years supporting the community in 2017 Honiton Town High Street
Honiton & District Lions Club - Devon, formed in 1977


Retired or just moved into area - Want to make new friends?
Have you some time to spare?
Interested in Joining the Honiton and District Lions Club -
And help us with some of our other projects, fundraising or maybe join us for a social evening hopefully you will enjoy the activity!

Lion President Brian for 2016/17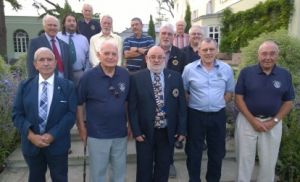 Group of the Honiton & District Lions Club members.
Some Numbers about Lions..............